Thesis in full is under development.
   = producing incentives to abuse human rights
5. Because it's counter-logical, that 3D-printing principles are not for books content yet: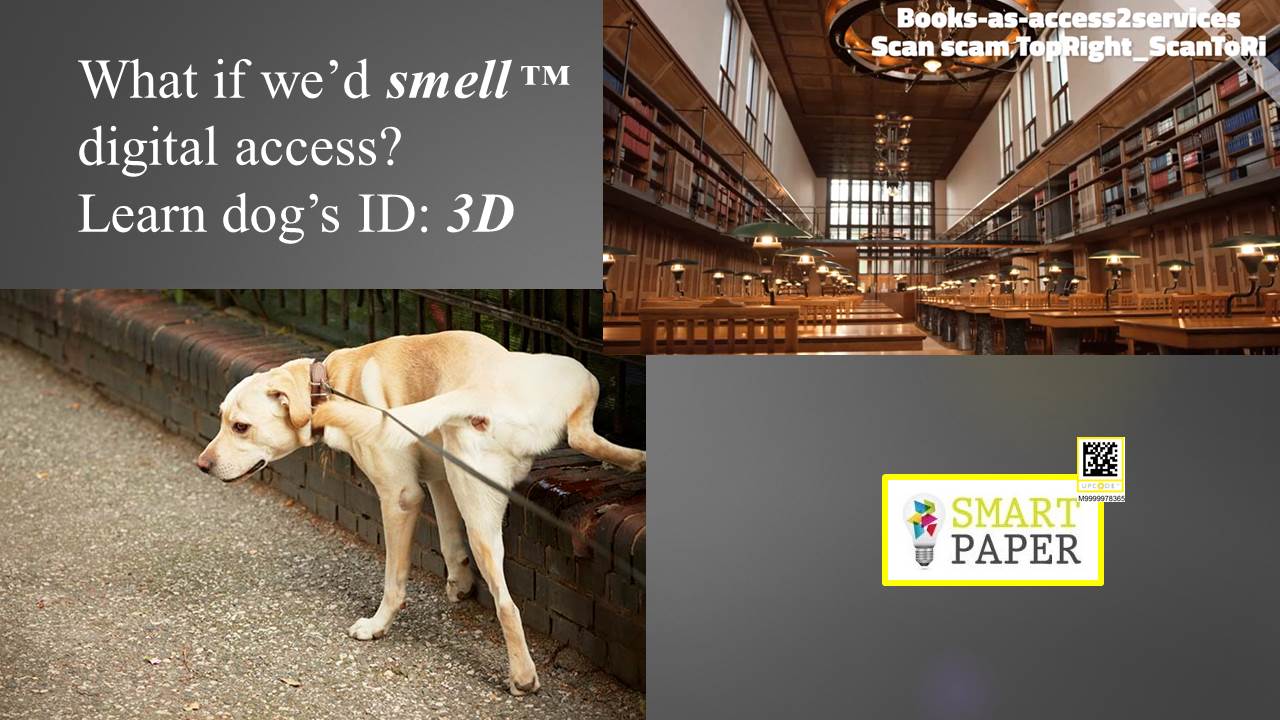 - e.g. max. 3 €/year/service, if a certain consumer 'consumes' over-priced by 150€/year ads of 50 such services'
This formal 'nightmare' message to YOUR personal data processor
- and approx. 100 € per year per person*
- giving practical leverage of user's 'personal data processing consent/PDPC' bargaining opportunity per GDPR,
by neglecting his/her SAR (Subject Access Request) or any other GDPR-conform inquiries to his/her personal data processors?
Vs obtaining consumer's PDPC for e.g. 3,5 €**? 
This GDPR-related omnichannel example helps to calculate individual's power to changes/ to improving his/her life quality;
  to improve bottom line profiles (net incomes, customer satisfaction, lifes quality etc.)
  uniquely tailor-cut to consumer habits and interests,
  that helps book readers
  so that user's omni-channels to services
  and on provider's benefits from processing of a certain user's personal data ,
- and this benefits' costs is possible to calculate from statistical data in any country,
- in exchange for granting the PDPC by consumer - to service provider
(includes costs of 4 SAR plus 1 answer / letters, if sent via S-bank branch in paper form).
Cost of 'solution' for SmartPaper.fi = 3 €**; SmartPaper.fi income = 0,25€/consumer/year.
** 2€ fixed costs plus 1€ processing costs/per customer's MyData ID/per year.
- that's why the below blog offers human-centricity disruption of C2B, C2G messaging
  due to evenly distribution of UpCode via Œ!books.
The devil is in the detail: bias of top-down built services produces wrong info-logistics
Yesterday I told the story-of-my-idea to a person, who connects businesses
- to scale to Korean market of high-tech, like to top management of LG & Samsung.
I did it, during 32 min, including some Q&A. Then I told: thank you, this was my story.
But the Korean lady told:
- our next meeting is cancelled, so we may have some more time for your story. If you wish.
- Please tell me WHAT ARE YOU TRYING TO SELL? (!!!) 
This question showed to me that my story-telling was a disaster :-( 
And then - I will be able not to SELL to them, but to BUY from them:
- It's interesting, the nice Korean lady told.
And I received 1,5 hours more, for BETTER explanation of my business idea...
- Because I wish to enhance behaviour by my technology...
After telling this story to the highly professional Korean expert yesterday,
- today I have read some comment in Facebook of my colleague
- that CREATING THE 'pattern behaviour' for smartphone users' when they explore OWN world around
- has value 10 M € - as an idea only,
pivot it & re-DESIGN: then prototype the BEST solution.
And then - discuss & test it with your prospective collaboration partners. And pivot again :-)
Spoiler: 'ideas cost nothing - but implementation'.
This blog is designed as a tool for my 'discussion-with-myself' of my business ideas, 
You may say - I'm a dreamer; what's your idea about? :-)
- to cut long queues
- to save 1/4 of library manual costs = e.g. n.250 K EUR p.A. in Vantaa libraries?
- for others = 3+1 EUR
  based at THE reader's preferences, history, his/her social media photos/videos and stories etc.
- to exchange the original books into ACCESSIBLE formats for VIP (Visually Impaired Persons),
Despite the simplification of electronic invoicing the competent ministry expects that a relevant number of businesses will not use e-invoicing for different reasons (e.g. internal processes).
4.137 billion €/24 B invoices.
*Paper invoices and electronic invoices should be treated equally and the administrative burden on paper invoicing should not increase: page 2, par. (8)
Legal assessment of the public (and hence private businesses') duty,
as THE source of need in SMART PAPER in EU: 
- duty of state:
  equality in transactions / interaction between public (and private) service providers vs citizen /    
  service user, 
  = duty to provide access to service information in consumer-centric form, at reasonable cost,
  see*
- deteriorating quality of MANDATORY e-SINGLE service / service info = facts show deprived access,
  due to one-sided / provider-centric decision as 'Nordic model' of access LEGISLATURE = 
 And costs of SMART PAPER service (decentralized printing of G2C, B2C letters) = 0,4 EUR
 (sivut 2,6): 
"Paper invoices and electronic invoices should be treated equally and the administrative burden on paper invoicing should not increase".
'Article 232':
"The use of an electronic invoice shall be subject to acceptance by the recipient"
     vs 'Nordic'/SMALL lands, illusion of MASS usage of MANDATORY single=digital-only access.
01/13/2017
 what3words, a Unique Identifier Code
By combining what3words with Ethereum KYC (blockchain approach: sending mail with a Unique Identifier Code to a physical address of a country inhabitant /a tourist, IDP, disabled person),
SMART PAPER stickers inside mass B2C letters provide new paradigm of access to digital services: anonymous, MiData and conform to eIDAS & PSD2, using best EU practices. E.g. conform to eSuomi.fi for access to public services, to SuisseID (eCH IAM) for uniform identity access to public and private services.
Because SMART PAPER makes messages (electronic mail, paper letters) non-hackable, thanks to our 'dual documents' non-postal delivery platform. It combines email with 'back-up' offline message with mobile-ID sticker: you make transactions (access to e-services, mobile payments PSD2 conform) 'in1gesture' - by showing your 2D-coded sticker /or your smartphone screen - to any internet connected camera - in any country.
Even if no mobile connection and no internet available; use what3words as your ID or as password and use UpCode to access electronic services, also offline.
Via hundreds of millions utility bills and mass B2C letters (SMART PAPER), billions of mass products' sensor stickers (TagItSmart), in Finland from 2017. Then in EU, India (as supplement to Aadhaar) ...
(c) SMART PAPER, 2017
12/04/2016
How to access digital services anonymously 
How to access digital services personally but anonymously: use SMART PAPER! (Concept below).
You wish to watch premiere of the film but you've got flu and must stay at home?
- rent a VR set from local library (Espoo, Finland: Iso Omenan...)
- or go to library and watch there any film at rented PC with a screen filter, protecting from watching
How to obtain permission to watch with respect to IPR of the film (make affordable payment), to print out a rare e-textbook to read inside library?
- order your personal SMART PAPER access code from our website - it arrives in seconds to your e-mail
- change password (see previous blog above) before first use, you may also use VPN to avoid cookies
- to be sure that no virus/malicious software comes from MitM attack - wait for hard copy confirmation,
  it is obtainable from your nearest SMART POS, also at your next home utility bill
- newest technology of printing at your wrist allows to carry unhackable own SMART code - SMART PAPER STICKER - from your utility bill or from nearest SMART POS
- even in 'Naked approach' IoT environments.
(c) SMART PAPER, 2016
 11/30/2016
SMART PAPER at Slideshare
1. Slideshare, pitch at SLUSH.
 I am Vladimir Kuparinen, СEO of start-up SMART PAPER, Espoo, Finland.
We softly-push people from paper documents to digital/omni-channel,
we offer B2B service 'production + distribution of consumer-centric B2C, G2C SMART documents':
-          it's paper AND digital = not EITHER paper OR DIGITAL
-          brings engagement to digitalization: fun, benefits, saves messaging costs & adds VAS. For 'housewives'. Trial country: Finland (pre-trial Russia done in 2007-2012), target: EU.
It's so called Hybrid Letters/HL = 'two-products-in-one': less costly and more 'green' than 'singular' messages. Scientists proved that delivery of 'purely digital' electronic bill is more harmful to nature & COSTS to society = of 15 paper invoices. eIDAS-2015: HL, paper will make 50% of messaging (rest is e-letters), see graph below left
2. At ULTRAHACK we discussed a collaboration model with Suomi.fi Service Views: its 'one stop shop' to public  services model, if applied to telecoms' bills (opt-in HL) = - 24M...120M € B/C costs p.A.;
-          and telecoms could benefit from HL 'Uberized' delivery #sharedeconomy = up-sell traffic to locals:
'Uber'-delivery by local people = 20 cents eco-cashback, paid in form of DOUBLED air-time/DCB
-          HL cut 10% of all costs of messages in society (produced by telecoms: e-billing report-2016 Bilentis)
We offer to enhance B2C, G2C INTERaction, in addition to Finnish gov't plan/ centralized Suomi.fi Views to services: its OBLIGATION model is used by max. 80% of citizen for G2C (in EU: from less 10%: Germany De-Mail/E-Postbrief, Finnish NetPosti; to Denmark eBoks/eDem), much less attractive for B2C postal letters (a number of quality failures arose on the mail side).
3. SMART PAPER docs are one-sheet mailers printed at 'last mile'.
Investment/leasing costs for HL technology/ SMART, DECENTRALIZED printing for whole Finland:
- 2 M € (150 SMART printers); trial for market's 10%: SMART printers in 15 public libraries, Espoo http://www.smartpaper.fi/en/misc/projects/library-rfid-project_owning-data_private-state-collaboration/
4. HL are approved as best postal innovation-2016 in Germany (DRUPA award: bit-kasten GmbH)
-          used since 2012 by Swiss Post, success stories in UK, France, Germany, Denmark, Sweden: https://www.compart.com/en/customer-stories
5. SMART PAPER exchanges envelopes by mailer forms that allow to print letters decentralized, LOCALLY = without ca. 100 km each letter travelling to&from postal sorting; it saves 20…80% of postage costs (150 M € p. A., we already achieved: Rus. Post had to cut 80% of tariffs there for 1 B mailer letters/bills)
-          one-sheet mailers instead of envelopes: used in all developed countries, except of Finland. 
6. No spam: paper /physical carrier's auth. factor UpCode at HL prevents MitM attacks: less costs, more security of important digital messages, blocking viruses / spam e-mails, non-authorized paper ads.
7. And the 'third-product-in-one': Magic Sticker (integrated in SMART PAPER forms):
- for cost-effective 'Naked Approach' © to IoT, quick & more secure mobile payments (DCB builds secure, anonymous ID); third parties digital services cross-sell (UpCode Mobile Access & Interaction™)
 -'uberization' of letters delivery, by local people instead of postmen: see at SMART PAPER website http://www.smartpaper.fi/en/misc/projects/smart-postal-platform-end-user-centric/
 (c) SMART PAPER, 2016
 11/01/2016.
 DUAL documents
We at SmartPaper.fi suggest more secure (via additional/ PHYSICAL/SmartPaper authentication factor) DUAL documents, that combine paper&digital (competition / or addition to Finnish state services NetPosti, beta.suomi.fi)
-          in order to softly-push consumers to digital communication/mobile interaction
- to 'turn communication from head to feet': from business-centric to customer-centric.
It might leverage #sharedeconomy ('piggybaggy' /Uberized delivery of B2C letters by locals) and #circulareconomy (3D-printed from paper home appliances - for 'bonus points' when SMART/mobile shredding of docs), MyData, Real Time Economy etc.: to name a few pro's of SmartPaper dual (Œ) documents.
Quick and the resource-effective way to acquire millions of households to electronic interaction via mobile gadgets / then Naked Approach – could be:
-          some PPP would start to order bills from telecoms in e-form (encrypted pdf to what3words e-mail address', with UpCode for 100% track&trace - in place of postal 2D-code, with Compart.com - see Swiss Post / DB dual docs), and then deliver these bills to 'paper-adherent' customers by Hybrid Mail (Hybrid Letters are printed near receiver vs 'centralized printing' by Posti/PostNord).
-          It means that customers would receive 'two-products-in-one' (and even three-in-one, if TagItSmart added, but without NFC = SmartPaper tags: to fight IoT vulnerability),
-          and for the price e.g. 0,4 EUR instead of e.g. 1,9 EUR for an 'Elisa's' over-charged paper bill
-          Elisa's fees for paper bills violate the EU Directive and human right to choice of information:
"Paper invoices and electronic invoices should be treated equally and the administrative burden on paper invoicing should not increase".
-          Posti price is 0,5…1,1 EUR for corporate customer.
How to establish such PPP / Public-Private partnership
-          if you consider PPP communication channel relevant vs a.m. 'state' channels
-          in Germany at least 4 competing channels co-exist;
-          Russia, China, Tadzhikistan are building a 'single channel' for citizen (like Finland, if no competition to 'state' channel of access to/from administrative services)
-          Nordea announced a 'mobile' authentication instead of less DDoS vulnerable (imho) 'pankkitunnus kortti' / paper authentication factor.
Now we have agreed about trials with two (starting new business of paper letters delivery) competitors of Posti,
- and we research an option to deliver dual docs independently from these (costly) partners – via PPP.
(c) SMART PAPER, 2016